(video source
TokioHotelNewsR
Youtube)
Bill Kaulitz was the first of several celebrities to talk to Ulrich Wickert ( a well-known German journalist and news presenter) as part of the series "Wickert trifft…" for the campaign "Werte schaffen Werte" [literal translation: "values create values"]. It was a campaign by the Volksbanken Raiffeisenbanken in Germany and focused on such values as freedom, solidarity and respect.
Launched on 5th December with the video, the campaign officially launched on 10th December 2012.
Official campaign website:
http://werte-schaffen-werte.de/wickert-trifft.html#/#kaulitz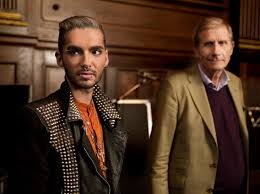 (scans sourced via google -  a translation of the article/film clip is found at
http://tokiohotelstreetteam.co.uk/2012/12/wickert-trifft-kaulitz-video-translation/#more-8603
)

_________________
I deserve the best and I won't settle for anything less! Going with the flow is not an option..

---
Permissions in this forum:
You
cannot
reply to topics in this forum