Tweeted by @JustJared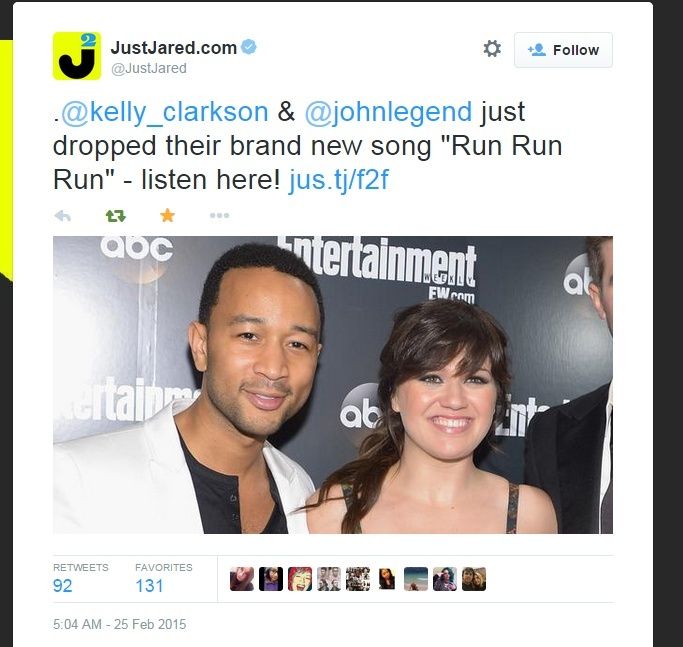 the link is to the article headlined "Kelly Clarkson Drops 'Run Run Run' Duet with John Legend!"
(source http://www.justjared.com/2015/02/25/kelly-clarkson-drops-run-run-run-duet-with-john-legend/)

"Kelly Clarkson has just released her third new song of the week… "Run Run Run" featuring John Legend!
The song is the fourth song Kelly has dropped from her upcoming album Piece By Piece, which will hit stores on March 3.
"Run Run Run" is a cover of German pop band Tokio Hotel. 
This isn't the first time that Kelly and John have worked together. They were judges on the short-lived ABC competition show Duets back in 2012.
WHAT DO YOU THINK of Kelly Clarkson and John Legend's new song?"
Kelly Clarkson & John Legend – "Run" Lyrics (Tokio Hotel Cover)
had a link to the recording and the lyrics were shown
"
[Verse 1]
I wonder how your body tastes
Inside of someone else's place
Hide away your eyes
There's nothing left to hear
I'm alone, but I know everything you fear
[Hook]
And you waited on the rain
Their tears my heart is caged
And we fall from faith
But we rise and rise again
And I run, run, run, run, run
And I run, run, run, run, run
I run, run, run, run, run
I just run run run
[Verse 2]
Tell me how you close the door
No one, nobody can love you more
Telling all your friends that this love is just made for bleeding
And upon new road I have started keep on, try to breath in
[Hook]
Our laws are fading
Tied up and changed
[Hook]"
with a link to 
http://genius.com/Tokio-hotel-run-run-run-lyrics
Kelly Clarkson is reported to have described hearing "Run Run Run"  .. 
(source credit @Unze1)
The cover was released after speculation on twitter .. with Wiki updated to read the following..

(source credit  @ Imilia483 ) 
and I'm aware of other artists saying that they were played a version of Run,Run, Run as early as 2013, which shows me that the guys writing is respected. 
(Remember, the guys from  Busted and McFly write for and with One Direction and its not unheard of for artists to write for others.)
Interscope recording artist Nick Gardner tweeted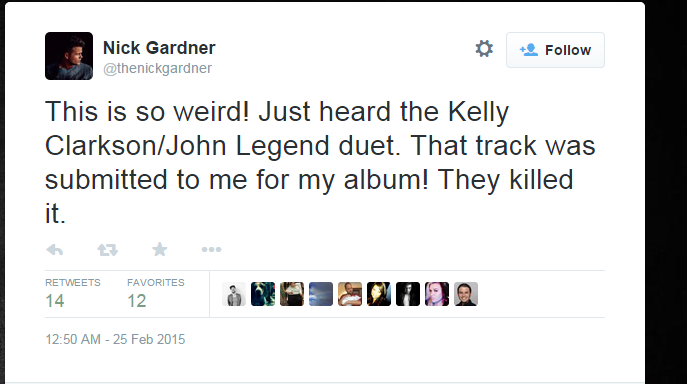 I'm sure people will recall the connection between Tokio Hotel and Interscope.
Personally, on the whole I like the cover.. not too sure about the added music at the end of the lyrics, but that's my personal view.
Have a listen, see what you think 

I've no doubt "drama" will run, run, run on this one, (see what I did there ?

)  but for me, I think its great that the guys are credited and that artists with a large listening platform in the USA and worldwide have covered a track from Kings of Suburbia.
We already knew the track and the Kings of Suburbia album it comes from was awesome, now other people get to share that knowledge with us!

Last edited by Dinahkin on Wed 25 Feb 2015, 12:09 pm; edited 1 time in total (Reason for editing : adding sources)

_________________
I deserve the best and I won't settle for anything less! Going with the flow is not an option..
For all those commenting about tracklisting and credits.. 
I think this may help clear up any confusion 

"ALBUMS // 25 FEB 2015
"Piece by Piece" is the upcoming sixth studio album by American singer-songwriter Kelly Clarkson. It's scheduled to be released on digital retailers on 3 March 2015 via RCA Records.
It's been almost three years since American Idol winner released her last album of completely original material. I know, we have had a grestest hits compilation "Chapter One" (2012) and ultra-festive Christmas album "Wrapped In Red" (2013).
In 2014, Clarkson takes a understandable break, and took the opportunity to welcome her first child with her husband Brandon Blackstock and leaked some much-awaited news. Responding to a fan's Tweet, she said:
Yes. I'm so proud of my next album! Might have a special guest… Doesn't come until early next year.
The lead single from the album "Heartbeat Song" was released on digital retailers on 12 January 2015. The same day, Clarkson confirmed on Twitter that her new album will be released in March. During her interview with Elvis Duran Morning Show she confirmed the name of the album and the expected release date, first week of March.
On 29 January 2015, Kelly revealed some lyrics snippets of nine of the tracks included on the album through piecebypiece.kellyclarkson.com.
The album includes productions by Audra Mae Jason Evigan, Kara Dioguardi, Mitch Allan and Greg Kurstin plus a duet with John Legend. The tracklist was revealed on Amazon.fron 31 January 2015.
Clarkson and her label plan to release a new song every day before the arrival of the album on iTunes."



Feb. 23: Invincible





Feb. 24: Piece By Piece





Feb. 25: Run Run Run (feat. John Legend)





Feb. 26: Take You High





Feb. 27: Someone




Tracklist:
Heartbeat Song | 
Kelly Clarkson, Audra Mae, Kara DioGuardi, Jason Evigan
Invincible | 
Warren Felder, Sia Furler, Steve Mostyn, Jesse Shatkin
Someone
Take You High | 
MoZella McDonald, Jesse Shatkin
Piece byPiece | 
Kelly Clarkson, Greg Kurstin
Run Run Run (feat. John Legend) | 
Joacim Persson, Ry Cuming, David Jost, Bill Kaulitz, Tom Kaulitz, Johan Alkenäs
I Had a Dream
Let Your Tears Fall | 
Sia Furler, Greg Kurstin
Tightrope
War Paint | 
Nolan Lambroza, Joleen Belle, Julia Michaels
Dance With Me | 
Daniel Rockett
Nostalgic
Good Goes the Bye | 
Natalie Hemby, Shane McAnally, Jimmy Robbins
Deluxe Edition
Bad Reputation | 
Kelly Clarkson, Greg Kurstin, Bonnie McKee, Kelly Sheehan
In the Blue | 
Kelly Clarkson, Jesse Shatkin, Fransisca Hall, Anjulie Persaud
Second Wind | 
Shane McAnally, Chris DeStefano, Maren Morris
(source 
http://www.josepvinaixa.com/blog/kelly-clarkson-piece-by-piece-artwork/)

_________________
I deserve the best and I won't settle for anything less! Going with the flow is not an option..

---
Permissions in this forum:
You
cannot
reply to topics in this forum