Playlist of the Dream Machine tracks from the Tokio Hotel YouTube site, including remixes.
NEW ALBUM DREAM MACHINE:
Spotify:
http://j.mp/Dream-Machine-Spotify

iTunes:
http://j.mp/TH-What-If

Album CD*:
http://amzn.to/2h8DMIL

Album Vinyl*:
http://amzn.to/2hZsvwm

All Versions:
https://lnk.to/TokioHotel_DreamMachine
Dream Machine was released in a variety of editions, a standard CD, Vinyl and a Deluxe box set which included Dream Machine cd, and instrumental version of the full CD, a special 7" vinyl single of "What If" and a bonus track, "Galacticon" from the Dream Machine Tour trailer, Bills album notebook with handwritten lyrics, a bucket list, and other personal notes.

Track list for Deluxe set
[b][b]Album CD[/b][/b]
1
Something New
2
Boy Don't Cry
3
Easy
4
What If
5
Elysa
6
Dream Machine
7
Cotton Candy Sky
8
Better
9
As Young As We Are
10
Stop, Babe
[b][b]Instrumental CD[/b][/b]
1
Something New (Instrumental)
2
Boy Don't Cry (Instrumental)
3
Easy (Instrumental)
4
What If (Instrumental)
5
Elysa (Instrumental)
6
Dream Machine (Instrumental)
7
Cotton Candy Sky (Instrumental)
8
Better (Instrumental)
9
As Young As We Are (Instrumental)
10
Stop, Babe (Instrumental)
[b][b]"What If" 7" Single[/b][/b]
A1
What If
B2
Galacticon (From The Official Tour Trailer)
Artwork for boxed set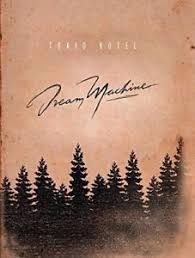 _________________
I deserve the best and I won't settle for anything less! Going with the flow is not an option..

---
Permissions in this forum:
You
cannot
reply to topics in this forum