Hard to believe these boys have been performing since 10 years old!
Source: Kyle Anderson with Ed. by Jeff Lapointe
Sep 2, 2011
http://www.mtv.tv/news/bill-and-tom-kaulitz-birthday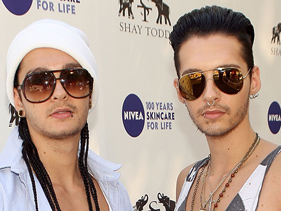 "Raise a glass to Tokio Hotel frontmen Bill and Tom Kaulitz, who both turned 22 years old yesterday. Bill is already something of an industry veteran, performing with his twin brother Tom since he was 10 years old. They plugged away quietly as Black Question Mark until they met Georg Listing and Gustav Schafer, who filled out their band and turned them into Devilish. The young band continued to play shows and attempt to get discovered until Bill performed on the German version of "Star Search" in 2003. He didn't win (he was eliminated in the quarter-finals), but his one-of-a-kind voice and unique sense of style scored his band a recording contract. They changed their name (again) to Tokio Hotel, and the rest is history.
Tokio Hotel were instant sensations in their native Germany, melding together pieces of punk, metal, glam and dance music for a new, vibrant stew. Their first album Schrei (which means "scream") became a hit, moving over a million copies worldwide (interestingly, some songs were re-recorded a year later when Bill's voice dropped due to puberty). They followed up with Zimmer 483, but it was their first English album (Scream, which contained remakes of songs from their first two albums) that really kicked it up a notch. They made huge inroads into America, where they were greeted with the same sort of fervor that they received elsewhere in the world.
A true international band, Tokio Hotel have wooed fans with universal music and a truly forward-thinking sense of fashion and style. (Thousands of words have been written about Bill Kaulitz's hair alone.)
Happy belated birthday to both Tom and Bill.
What would you get Bill or Tom Kaulitz for their birthday? Let us know in the comments!"
(comments can be found at the weblink)

_________________
I deserve the best and I won't settle for anything less! Going with the flow is not an option..

---
Permissions in this forum:
You
cannot
reply to topics in this forum