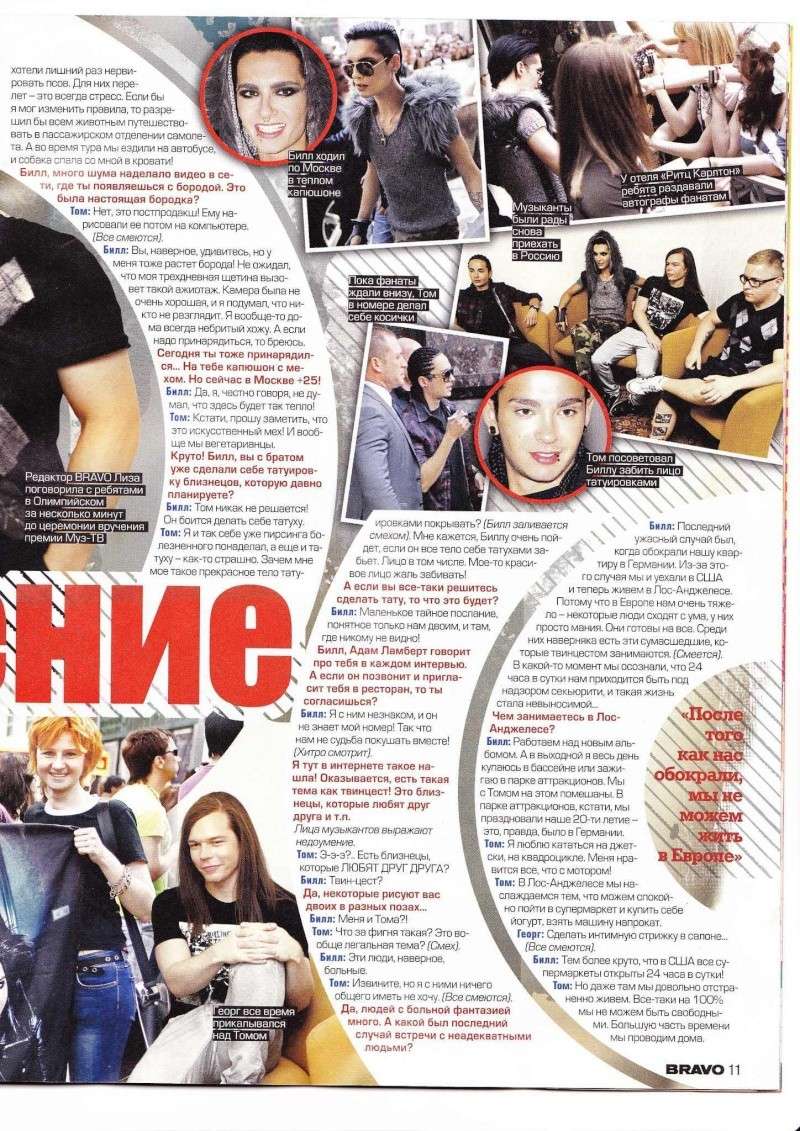 Source - no longer available (I can't find it)  - credits given for translation.
"Article
 - 
Translation by Haylie/TokioHotelNews.Ru
Finally it happened! Tokio Hotel arrived in Moscow to the Muz-TV Awards! BRAVO met the band and learned a lot of interesting details about their life.

BRAVO's editor Liza has interviewed the guys at Olympiysky a few minutes before the Muz-TV Awards.
Bravo
: 
There was really huge crowd of fans in front of the hotel. They came to see you, but suddenly one security came out and said, that you had asked the girls not to scream.
*All of them are laughing*
Georg and Tom
: Whaaat?!
Bill
: Whoa! We never said that! On the contrary we love so much our fans to greet us with happy cries! Next time, when you hear something like that, you should tell us, we will kick him out immediately!
Bravo
: 
Oh, thanks God! Did you take your dogs to Moscow again?
Bill
: No, unfortunately we didn't… They stayed at home. Last year we took two our big dogs (German short-haired and Labrador) on tour with us. But we're not going to stay in Moscow for that long, so we decided not to make dogs nervous. Flight is a huge stress for them. If I could change the rules, I'd let animals travel on board the plane. During the tour when we traveled by bus the dog slept with me in my bed.
Bravo
: 
Bill, the video where you appeared with beard made some buzz in the Net. Was it real beard?
Tom
: Nope! It's postproduction! It was painted on the computer later. *All of them are laughing*
Bill
: May be you'll be surprised, but my beard grows too. I didn't expect my 3-days bristle would make such ballyhoo. The camera was not so good and I thought no one would notice it. Actually at home I'm always unshaven. And I shave if I have to go out.
Bravo
: 
You also dressed up today… You have a hood with fur. But it's 25C degrees in Moscow!
Bill
: Yes, I didn't know, that it's so hot here!
Tom
: Btw, I have to draw your attention that it's not real fur! And we are vegetarians actually.
Bravo
: 
Cool! Bill, have you and your brother already made a twin-tattoo that you have planned?
Bill
: Tom can't finally make up his mind to do it! He is afraid of tattoos.
Tom
: I've already made painful piercings, but tattoos… it's kind of scary. Why do I have to cover my beautiful body with tattoos? *Bill is laughing* I think, it would be suitable for Bill if he would tattoo all his body including face. It's a pity if I make it on my beautiful face.
Bravo
: 
But if you finally decide to make it, what would it be?
Bill
: A little message understandable for two of us only somewhere no one could see.
Bravo
: 
Bill, Adam Lambert talks about you in each interview. What if he calls you and invites you to the restaurant?
Bill
: I don't know him, and he doesn't know my phone number! So, he seems not to be fated to dine with me *looks cunning*
Bravo
: 
I've found something in the Internet! There is such thing as ********. It's twins who are in love with each other and so on…
*Guys look really puzzled?*
Tom
: Ehmmmm… Are there twins who in LOVE WITH EACH OTHER?
Bill
: Twin-cest?
Bravo
: 
Yes, some people even draw you in different poses…
Bill
: Me and Tom?!
Tom
: What a bullshit? Is it legal, actually? *laughs*
Bill
: May be this people are insane.
Tom
: Sorry, but I don't want to have something in common with this people. *all laughing*
Bravo
: 
Yes, there is a lot of people with insane fantasy. But what was the last case when you met inadequate people?
Bill
: The last terrible case was when someone broke into our house in Germany. Because of this we have moved to the USA and now we're living in LA. It's too hard to live in Europe. Some people are just going crazy. They have kind of mania. They can do everything! May be there are those crazy ones among them who make ********. * laughing* One day we understood, that we have to stay under security's control all the time. Such life became unbearable…
Bravo
: 
What are you doing in LA?
Bill
: We're working on our new album. On weekends I swim in the pool the whole day and have fun in amusement park. Tom and me are obsessed with it. Btw, we celebrated our 20th Birthday in amusement park, but it was in Germany.
Tom
: I like jet-ski and quadrocycles. I like everything with engine! In LA we also like the fact that we can go to the supermarket and buy yoghurt, rent a car.
Georg
: Make an intimate haircut in salon… *Everyone laughing*
Bill
: Besides it's cool that all supermarkets in the USA are opened round-the-clock!
Tom
: But we live a bit distantly even there. We can't be free for 100%. Most of the time we're staying at home.
Quotes
:
"It's a pity, that we can't take our dogs with us"
"Since our house was robbed, we can't live in Europe anymore"
Under the Pics
:
1
. Bill knows only one song in Russian – "Kalinka" 
(guelder-rose)
2
. The fans were waiting for their favorite band during 48 hours!
3
. Bill was walking in warm hood in Moscow
4
. Guys signed autographs in front of the Ritz-Carlton Hotel
5
. Musicians were happy to be in Moscow again.
6
. While fans were waiting, Tom was making his cornrows.
7
. Tom gave advice to Bill: tattoo all his face.
8
. Georg made fun of Tom all the time
__________
Translator Note
:
HUGE thanks to Nancy and Elodia for help!"

_________________
I deserve the best and I won't settle for anything less! Going with the flow is not an option..

---
Permissions in this forum:
You
cannot
reply to topics in this forum